Who are French and Saunders?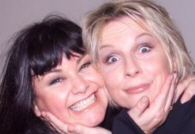 Only the best comedy duo in the world. Compiled by the talended Jennifer Saunders and Dawn French. The pair met at the Central School of Speech and Drama. Jennifer was the one who replied to an advert for comediennes at The Comic Strip and brought Dawn with her.

They began their career in "The Comedy Store" in London, with fellow comedians Adrian Edmondson , Rik Mayall, Nigel Planer, Alexei Sayle and Peter Richardson , who later opened his own club, "The Comic Strip", where these comedians quickly formed a regular format. The Comic Strip team were transferred to television screens with great success as they all starred alongside each other in "The Comic Strip presents..." (1982) .


Click here to vistit my French and Saunders site!
Get wallpapers, images, icons, info and more...